Authorized HD Fantasy Wallpapers by Larry Elmore Art - Official
by Evermore Design LLC
Elmore Productions has teamed with EverMore Design to bring you a wallpaper app for my artwork. Now you can display my artwork on your Android or Apple devices as your background wallpaper or as your lock screen. In this initial release of the apps, you will get my wallpaper selector and changer, along with 10 of my most recent works, plus a bonus of 4 of my classics, for a total of 14 images to display on your device.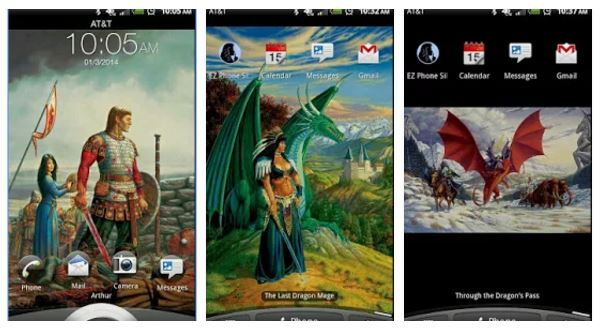 Every few months, I will be offering new sets of images, which you will be able to download right from the app. I will also be offering free bonus paintings with each new release to thank you for updating your app.
Many of my paintings don't fit the standard proportions a smart phone or tablet, and some of them are wide landscape paintings. But don't worry, my app creates a black border, like a matte, around the images before saving them, which allows you to zoom images in to fit to height or width in either landscape or portrait mode. This solves the familiar device behavior of forcing the image to zoom to fit, which can crop off a lot of the painting when you are viewing a landscape.
Apple Devices
iTouch, iPhone, iPad Mini, iPad
For Apple users, just run the wallpaper selector, save the images to your device, and set them as the Lock Screen and or Home Screen.
Android Devices
smart phones, tablets
For Android users, just activate my "Larry Elmore Live Wallpaper" app and it will automatically cycle through all my painting and display them as your wallpaper and lock screen images. You can control the display time for the images and their orientation. In addition, on Android, you can tap once anywhere on the background to automatically advance to the next image or double tap on an image you like, and it will open up your browser and take you to my web site to the page where you can purchase a print of the image you tapped on.

Please give my app a try. If you like it, please give it a good rating and a review, and share with your friends on your favorite social media. If you have any questions or comments about the app or have requests for new features, please visit the developer's site at http://apps.evermoredesign.com/.